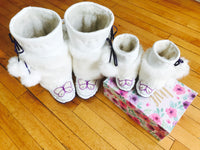 Moccasins and Mukluks
Our Staff is working hard to ship your orders. As we practice safe social distancing and sanitation procedures, you may experience a delay. Thank you for your support and understanding during this time
Order a kit today, and get started on making your own pair of Moccasins or Mukluks!
Free Shipping for kit orders over $150
**please note if you select a kit it is a diy kit to show you how to make your own pair, not a pre-made Mukluk/Moccasin**
We are Proudly a Canadian and Metis owned Company! Thank you for your support! 
Available sizes
Contact me!
Stuck on a step? Need some extra help? I'm here for you!
Contact me anytime at: brittanyshandmadedesigns@gmail.com